3D Spirit Contest: create the model that will be the epitome of the prowess of 3D printing.
---
Contest closed!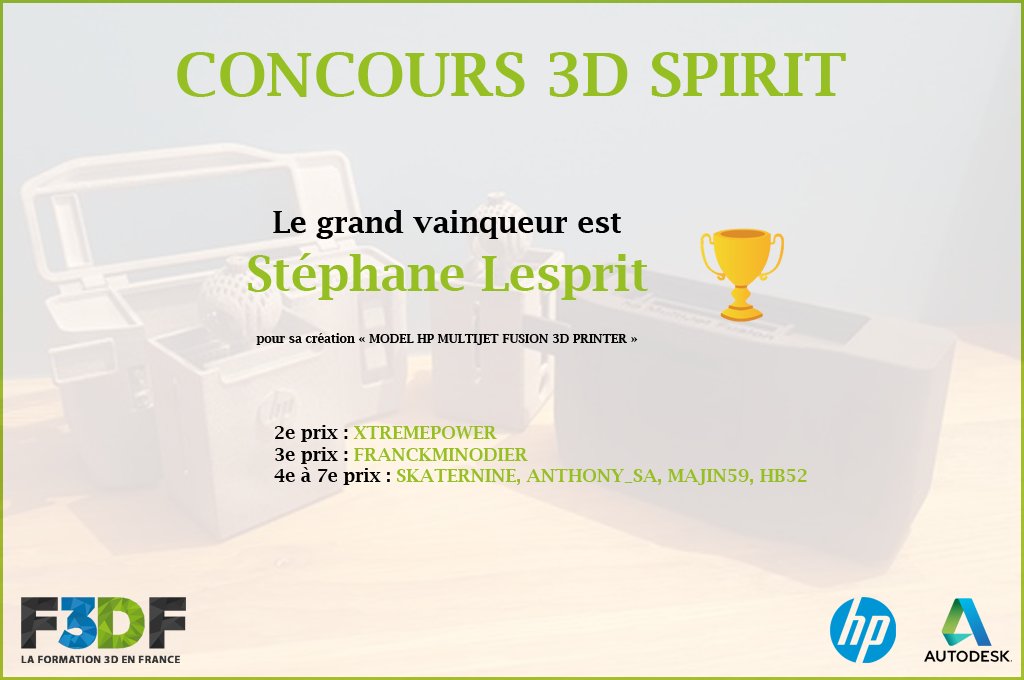 Congratulations to Stéphane Lesprit, winner of contest #3DSpirit with his creation of HP Multijet Fusion 3D printer model! Congratulations to the participants finishing from 2nd to 7th place! Congratulations to all for your creativity and thanks to HP France, Autodesk France, Freos3d, 3D Prod, A3DM Magazine and F3DF partners.
Caution: This contest is open to French residents only.
Your challenge is to think, imagine and create the ideal 3D object. The object that will be the testimony of technological prowess achievable in 3D printing. This object can have the shape you want, but it must really be the result of a thinking on the benefits of production and design of a 3D object and make it the incarnation .
Building on the capabilities of HP Jet Fusion technology and Autodesk software, you will bring to life an object that, before the birth of additive printing, would never have been possible.
Think of the complex structures inspired by the largest masterpieces of nature such as the bone system, honeycomb structures, and also multifunctional or pre-assembled parts, and create your own symbol of the creation of the future.
A jury of professionals will reward the best creations. This designathon is an opportunity to exploit all the possibilities of Autodesk's Fusion 360 software.
---
The contest runs from November 8, 2017 to January 14, 2018.
---
How ​​to participate ?
---
What are the prizes?
1st prize: a trip to Barcelona to visit the HP headquarters and a 3D scale 1 print of your creation

2nd: a trip to Barcelona to visit the HP headquarters and a 1/2 scale 3D printing

3rd: print scale 1/2 and a voucher worth 50 € on Cults

4th to 7th: a subscription to the F3DF Fusion 360 e-learning and a subscription to A3DM
---
How the winners will be selected?
Participants will be noted on the creativity of their 3D design, the originality of their staging and the number of "likes" that their creation will get on Cults.
Creativity of the fit with HP technology: 10 points
Compliance with manufacturing constraints: 5 points
Pitch quality: 2.5 points
Number of likes: 2,5 points
It is a jury who will designate the 7 winners
The jury will be composed of: Joana de Mayeur from HP, Denis Hamant manager of Kreos (HP certified partner), Gaëtan Lefevre editor of A3DM magazine, Patrick Emin from the company Autodesk and Florian Berthelot from the company F3DF.
For more information, see the contest rules.
3D Spirit is an event organized by F3DF and Autodesk in partnership with HP, Kreos, 3D Prod, A3DM and Fusion 360.
---
Here we go! Say no more, I'm motivated!
Participate by sharing online a complex 3D model that will be a real prowess to print, without forgetting to add the #3DSPIRIT in the description of the 3D model:
To see all the creations that already participate in the contest and compare to others, click on the button below: